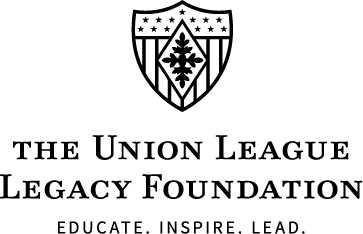 What We Do
The Legacy Foundation inspires and educates League members, students, and the greater community to be engaged and responsible citizens, guided by the United States Constitution and the history and values of the Union League.
The Union League Legacy Foundation is dedicated to the same tenets of freedom and free enterprise upon which the Union League was founded. Through historic preservation, education, and scholarship, the Legacy Foundation promotes these values and ideals, inspiring more educated, engaged, and responsible citizens.
The Union League Legacy Foundation:
cares for the historic collections;
preserves the Union League House;
provides civics education programs for high school students;
curates interpretive and informative exhibits;
grants scholarships for post-secondary education;
presents the Good Citizenship Award;
hosts multiple historical, cultural, and public policy lecture series;
and much more.
In June 2019, The Union League Legacy Foundation was founded to encompass the three long-standing Foundations of the Union League — the Youth Work, Scholarship, and Abraham Lincoln Foundations.
How We Do It & How You Can Help
The Legacy Foundation is not supported by Union League member dues, but through charitable contributions for Union League members and others who provide the resources to carry out our mission.
Support the mission of the Legacy Foundation through a tax-deductible donation.
The Impact We Make
Over the last year, the Legacy Foundation has impacted the lives of thousands of individuals.
The Legacy Foundation awarded $336,000 in scholarship aid to 11 deserving students in the Spring of 2021.
The Legacy Foundation's annual Lincoln Day in February 2021 was the largest in history – viewed by over 1,300 individuals.
The Legacy Foundation commissioned a new portrait of Frederick Douglass that was unveiled on September 14, 2021 thanks to the generosity of donors who contributed over $100,000.
The Legacy Foundation acquired 42 new items into the collections of art, archives, books, manuscripts and objects, and processed 54 items for loans to and from museums and other organizations.
The Legacy Foundation hosted 258 high school juniors for Good Citizen Day, all were awarded the Union League's Good Citizenship Award.
The Legacy Foundation presented 35 unique lecture programs, with nearly 10,000 attending in person or virtually.
The Legacy Foundation produced 44 Mondays with Mundy videos on YouTube, with over 4,000 viewers.
Watch the video below to learn more about the Legacy Foundation and its mission to educate and inspire more engaged and responsible citizens.
Learn More & Connect
Legacy Foundation programs can be viewed on The Union League Legacy Foundation's YouTube Channel.
Public Hours: The Heritage Center, the Legacy Foundation's home at the Union League, and its current exhibit: Ballot Box: America's Fight for the Vote, is open to the public every other Tuesday and Thursday from 3 pm to 6 pm and on the 2nd Saturday of each month from 1 pm to 4 pm. The exhibit will remain open through June 2022. Visit the exhibit to learn more about the history of voting rights.
Legacy Foundation Staff
Executive Director
John J. Meko, Jr.
215-587-5583
mekoj@unionleague.org
Chief Administrative Officer
Kira Foley-Tuzman
215-587-6455
kira@unionleague.org
Director of Development
Christyn J. Moran
267-702-2969
moranc@unionleague.org
Administrative Assistant
Becca Benton
215-587-5596
bentonb@unionleague.org
Historian
James G. Mundy, Jr.
215-587-5592
mundyj@unionleague.org
Development Coordinator
Amanda Rockwood
267-702-2986
rockwooda@unionleague.org
Archivist and Collections Coordinator
Keeley Tulio
215-587-5568
tuliok@unionleague.org