Union League Veteran's Fellowship Program
The Union League Veterans Initiative Fellowship Program matches high-potential veterans with Union League members who are dedicated to helping veterans grow professionally and personally. Union League members serve as Mentors to the veteran Fellows, offering assistance and guidance that is unique to each Mentor-Fellow relationship. In addition, the Fellows gather monthly over six months for team-building and professionally facilitated educational workshops.
Annually, the program identifies 12-15 high achieving, post 9/11 era veterans who have demonstrated strong potential in their recently transitioned civilian occupations or in pursuit of advanced education. In addition, program candidates are committed to giving back and serving the veteran community.
The vets, termed as Fellows, are introduced to successful Union League member volunteers holding an expertise in a field well aligned to the Fellows career and life-goal aspirations. Over a period of six months, January up to June graduation, Fellows meet individually with their assigned Union League Mentors sharing struggles, success stories, receiving advice and guidance as well key introductions.
The educational workshops cover topics such as Professional Presence, Increasing Your Influence and Navigating the Corporate Landscape. Through an open ended style, the Fellows have the opportunity to share difficulties of transition into civilian work environments as well as identify their unique strengths within their new professional tracks.
Each year the cohort is challenged with the execution of a service project designed to utilize the "brain-trust" and power within the cohort of Vet Fellows, tap into the resources and connections within The Union League of Philadelphia, and serve as a legacy that will live on at the Union League beyond the time the Fellows serve in the six-month program.
Ideally in keeping with the mission of the Union League Veterans Initiative, the Fellowship Program seeks to strengthen and promote the outstanding work and value veterans bring to the civilian workforce as well as a continuation of their service within their own communities.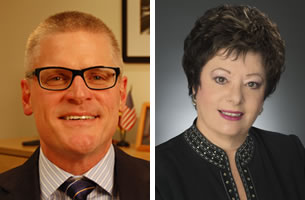 Peter Gutekunst and Dr. Karen Lawson, Veterans Fellowship Program Coordinators